What to Do About Aspergillus?
An issue which unavoidably arose with the move from dual nomenclature for pleomorphic ascomycetes and basidiomycetes to one name for one species, was what to do about Aspergillus. In particular, should a broad generic concept be adopted, or should the genus be split into separate genera correlated with different sexual morphs. Pitt & Taylor (2014) argued that in order not to have a paraphyletic genus Aspergillus, it was most expedient to recognize Eurotium, Neosartorya, Emericella, and Chaetosartorya, and accept Aspergillus (with Petromyces as a synonym). They consider that this system would be in the best interests of applied mycologists, although it has to be noted that Neosartorya would have to be taken up for the medically important A. fumigatus, and Emericella for the geneticists model organism A. nidulans. This system of generic names, would require a change in the type species of Aspergillus to A. niger from A. glaucus, and a formal proposal to conserve Aspergillus with A. niger as type is in preparation.
The analysis of relationships within these fungi, has, however, been taken to a new level through more comprehensive molecular studies including the whole genomes of several species. An analysis based on 25 loci by Houbraken et al. (2014) showed that Aspergillus was monophyletic and well-supported as a sister group to Penicillium. Contrary to Pitt & Taylor (2014), those authors consequently retained Aspergillus for the whole group, adopting subgeneric names for clades within it characterized by the main sexual morphs. The arguments for adopting a single generic name were developed in Samson et al. (2014), where monophylly was again demonstrated, and they went on to provide a list of 339 names of species accepted in Aspergillus along with full bibliographic and type details (including ex-type cultures), and MycoBank and GenBank accession numbers. The single-genus solution, is stated to be supported by the International Commission on Penicillium and Aspergillus (ICPA), and a recent pollFootnote 1 had overwhelming support (91%) in favour of retaining the name Aspergillus. On 25 November 2014, ICPA presented the list of Aspergillus names to the Nomenclature Committee for Fungi (NCF) for consideration for adoption, along with ones in Penicillium and Talaromyces (which have not occasioned controversy). The lists are available on the ICPA website (www.penicilliumaspergillus.org).
It should, however, be remembered that the new Lists of Protected Names are not designed to fix a taxonomy, only indicating names that are to be used in favour of any competing names (Redhead et al. 2014). Should the Lists in due course be accepted for protection, this does not mean that those wishing to adopt a taxonomy different from that adopted in the Lists are compelled to follow it. It will be interesting to see what consensus emerges over the classification to be adopted in the coming years.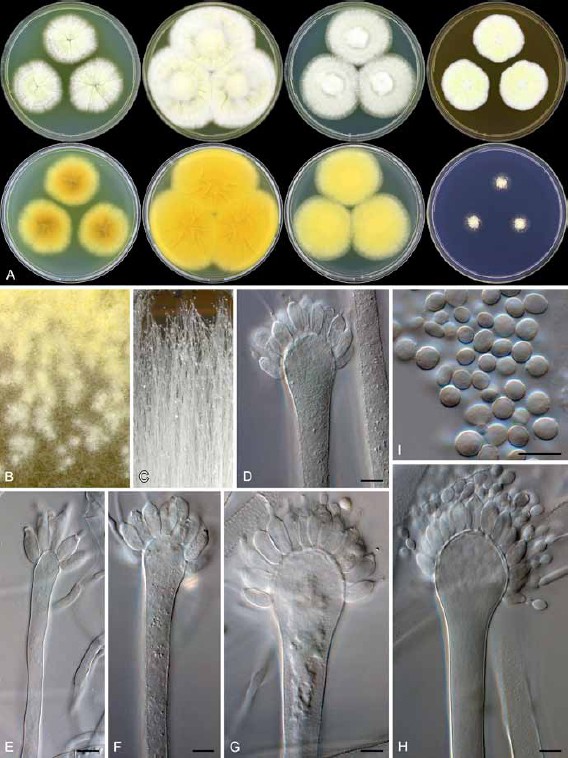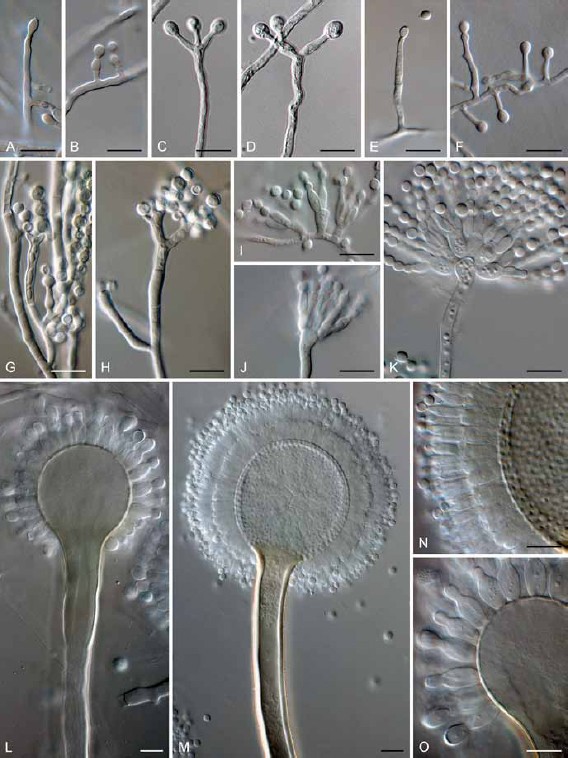 RefSeq: Reference Sequences for Orders of Fungi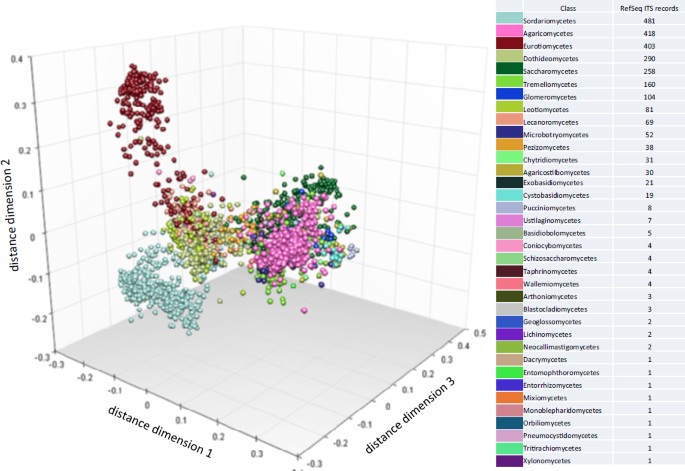 Confidence over which sequences in public databases can be relied upon for use in the construction of phylogenetic trees or placing fungi of uncertain position has long been problematic. The news that publication of a comprehensive reference set of sequences for all accepted orders of Fungi was imminent was reported in the June issue of IMA Fungus (5: (17), 2014). This has now appeared (Schoch et al. 2014). The venture involved 101 co-authors who collaborated to release reference sequences (RefSeq or RefSs) of the ITS regions of about 2,500 species selected to represent the currently accepted orders. Wherever possible, sequences were obtained from the name-bearing type or other verified collections with vouchers preserved in fungaria and collections of fungal cultures. The coverage achieved is most impressive, and use of the sequences selected here, and those in UNITE in particular, now provide a sound base for fungal molecular systematics and identification which can be relied upon and built on in the years ahead.
What is in Your Packet of Dried Porcini?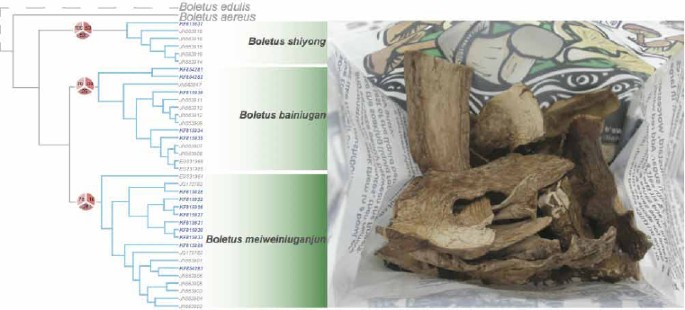 The issue of correct identification in material for human consumption as food or medication is brought to light in the discovery of three previously undescribed species of Boletus in a single commercial packet said to be of dried "porcini", B. edulis. Dentinger & Suz (2014) selected 15 pieces of dried mushroom from a single Chinese packet purchased in south-west London in October 2013 and sequenced them. A BLAST search and comparison with related sequences revealed that three species were represented, none of which had previously been named, although there were matches with some previously reported lineages. While the three clades were well supported in this study, there were differences within the clades which was attributed to infraspecific variability. The new species were formerly named by fast-track publishing through Index Fungorum as B. bainiugan, B. meiweiniuganjun, and B. shiyong on 12 October 2013Footnote 2. The molecular analyses that form the basis for those decisions are, however, presented in the paper commented on here, but the macroscopic features await documentation by fresh collections from China.
Now that these porcini-like mushrooms have now been molecularly characterized and named, they can be checked for by food standard agencies and authorities. But with three unnamed species found in a single packet of dried mushrooms, and not knowing what fungal products they might produce, I, and I suspect many other mycologists, may be more cautious when considering buying dried boletes.
Is Your Favourite Genus on the List?
A draft list of 6,995 generic names of fungi (including those of lichenized fungi), for possible protection against earlier competing names was published by Kirk et al. (2013) in order to accelerate the process of selection of names to be retained, and without prejudice to the names to be included on any final list for formal adoption. A revision of that list was prepared for IMC10 in Bangkok in August 2014, which took note of numerous comments received from individual mycologists and also lists being developed by working groups concerned with particular families, orders, or classes. Progress on the various lists was introduced to a wider audience at IMC10 where controversial cases were highlighted (Redhead et al. 2014). The up-dated generic list is now available on wwww.generaoffungi.org along with details of the place of publication of the names and their type species.
Although the current International Code of Nomenclature for algae, fungi, and plants (McNeill et al. 2012) only allows for listed names to be protected against particular itemized names, and exempts lichen-forming fungi from the provision, it is anticipated that those issues will be changed at the International Botanical Congress in 2017, in the light of the views expressed by mycologists at IMC10 (Redhead et al. 2014). It must be stressed that unlisted generic names would all remain available for use provided that they did not compete with any listed name.
It is anticipated that a revised list will be prepared by 30 June 2015, and all mycologists are urged to comment on the names included and draw to the attention of the compilers any which should be added, deleted, or otherwise corrected. If a sufficiently robust list with a wide consensus can be achieved, this will be a major contribution to the stability of familiar generic names without recourse to the lengthy procedures of conservation and rejection. The co-operation of all mycologists in this important initiative would be much appreciated.
Comments on names of Basidiomycota should be sent to Joost A. Stalpers (j.stalpers@cbs.knaw.nl), and those on all other groups should be addressed to Paul M. Kirk (p.kirk@kew.org.).
Red Lists for Fungi — Nominate species of concern now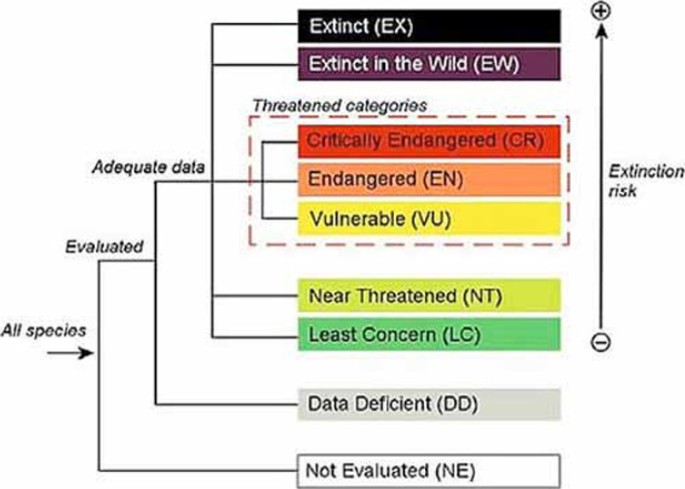 The IUCN (International Union for the Conservation of Nature) produces Red Data Lists, used to categorize the level of risk to a species, no matter how common. While many countries have Red Lists covering lichens and other fungi, so far only six have made the international IUCN Red Data List, of which four are now categorized as endangered or critically endangered: Cladonia perforata, Erioderma pedicellatum, Gymnoderma insulare, and Pleurotus nebrodensis.
As a result of the activities of many mycologists in the last few years, especially working though the International Society for Fungal Conservation (ISFC) launched in 2010, the profile of fungi in international conservation has increased exponentially, but that is hardly yet reflected in the IUCN lists.
The IUCN does, however, now have five fungal specialist groups in its Species Survival Commission (Vilaró et al. 2012), but these need documentation on particular species in order to make assessments and initiate the required bureaucratic procedures.
One way to have species listed is for specialists to nominate species which they consider to be rare and perhaps endangered to be included in the "Global Fungal Red List Initiative"(Mueller et al. 2014). Nominated species need to be submitted along with certain data to enable preliminary assessments to be made. In order to facilitate this process an interactive website has been developed (http://iucn.ekoo.se/). Mycologists, including lichenologists, are urged to nominate species via the website, with a view to undertaking a preliminary assessment of as many as 300 species and then prioritizing the most likely candidates with the aim of contributing towards the 2015 IUCN Red Data Lists.
Nominations are requested by the end of 2014 in order to enable the preliminary assessments to be carried out. So please register and start proposing your species through the website over Christmas, including as much detail as possible. Comments and additional information on the distribution, ecology, and any other aspects of species suggested by others are also welcome.
[Partly adapted from a text prepared by Joanne Taylor (Royal Botanic Garden Edinburgh, 20A Inverleith Row, Edinburgh EH3 5LR, UK).]
Micropia: reveals the invisible
Despite the large number of Dutch companies and scientists involved in microbiology, there has been no centre for the public, until now. The Netherlands oldest Zoo, Natura Artis Magistra ("Artis") in Amsterdam, has opened a new museum called "Micropia". Micropia was opened by Her Royal Highness Queen Maxima on 30 September 2014.
Micropia is set to inspire the general public, encouraging their interest in the smallest, most successful organisms from an early age. Seeing and experiencing will be kept central, with the focus on the (mostly positive) relationship between microbes and the visitors themselves. Micropia will literally allow people to see the invisible. Living microbes (grown in their own laboratory) will be put on display using specially developed technology. The microbes will themselves tell the story of microbiology, helped by award-winning photographer Wim van Egmond's unique pictures, other impressive images, interactive displays and much more.
The CBS-KNAW Fungal Biodiversity Centre is one of the sponsors of Micropia by playing an advisory role as well as delivering fungal cultures.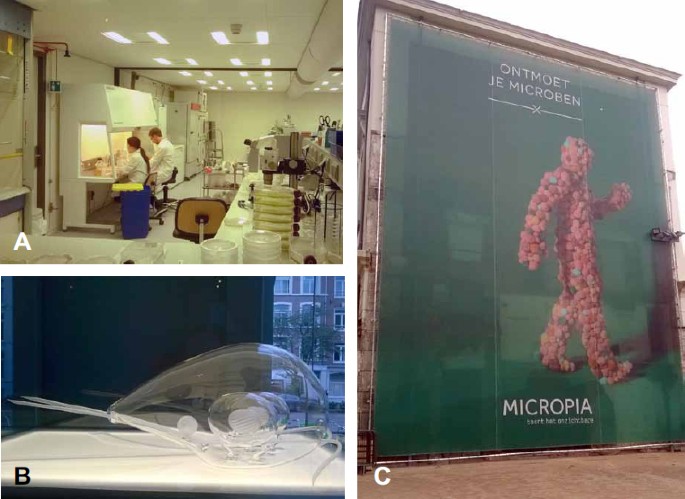 We strongly encourage you to visit Micropia when you visit The Netherlands. Find out more on Micropia's website: http://www.micropia.nl.
[The only somewhat similar enterprise of which I am aware was the "Micrarium" established in Buxton (Derbyshire, UK) by Stephen Carter in 1981 after leaving ICI Pharmaceuticals. It had 44 microscopes with preparations of a huge range of organisms (not only fungi and bacteria) visitors could explore with a joystick. The museum, which was a favourite with children (including my own), continued after Stephen's death in 1987 until 1995 when the lease on the premises in the heart of this historic spa town ran out. — Ed.]
Fungi as 3D Phantograms
The fall 2014 issue of Fungi, a magazine issued in the USA five times each year and targeted at naturalists and citizen scientist mycologists, breaks new ground in having some of the colour photographs in 3D. In this number, Fred Rhoades explains how such images can be produced using a regular 35 mm camera without the expense that would be incurred in purchasing a dedicated stereo camera.
The results can only be described as stunning. 3D spectacles are included with the issue and looking at the photographs makes you think you really are seeing them in the field. Amongst the most striking for me were those of Geopyxis carbonaria, Plectania nannefeldtii, and Strobilurus trullisatus. It is worth getting a hold of this issue (vol. 7 part 4) just to experience these! Other topics in the issue range from ones on matsutake, Pacific Northwest tree identification, brown rot fungi on stone fruits, a speculation on over-collecting imagined from 2035, and books reviews. One of the five issues each year is a special one, the 2014 being on lichen fungi featured separately in Book News in this issue of IMA Fungus (pp. (57)—(58)).
As far as I am aware, this is the first mycological periodical ever to include 3D images, and it will be interesting to see if others aimed at non-specialists now follow suit. Subscriptions are a modest US $ 40 for US residents, $ 42 for those in Canada and Mexico, and $ 70 for others; for ordering information see the journal's website: www.fungimag.com.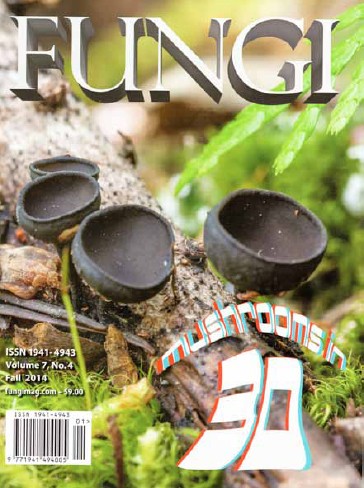 References
Houbraken J, de Vries RP, Samson RA 2014) Modern taxonomy of biotechnologically important Aspergillus and Penicillium species. Advances in Applied Microbiology 106: 199–294.

Pitt JI, Taylor JW (2014) Aspergillus, its sexual states and the new International Code of Nomenclature. Mycologia 106: 1051–1062.

Redhead SA, Demoulin V, Hawksworth DL, Seifert KA, Turland NH 2014) Fungal nomenclature at IMC10: report of the Nomenclature Sessions. IMA Fungus 5: 449–462.

Samson RA, Visagie CM, Houbraken J, Hong S-B, Hubka V, et al 2014) Phylogeny, identification and nomenclature of the genus Aspergillus. Studies in Mycology 78: 141–173.

Schoch CL, Robertse B, Vincent R, Vu D, Cardinali G, et al. 2014) Finding needles in haystacks: linking scientific names, reference specimens and molecular data for Fungi. Database 2014: bau061; DOI:10.1093/database/bau061.

Dentinger BTM, Suz LM 2014) What's for dinner? Undescribed species of porcini in a commercial packet. PeerJ 2: e570. DOI10.7717/peerj.570.

Kirk PM, Stalpers JA, Braun U, Crous PW, Hansen K, et al. 2013) A without-prejudice list of generic names of fungi for protection under the International Code of Nomenclature for algae, fungi, and plants. IMA Fungus 4: 381–443.

McNeill J, Barrie FR, Buck WR, Demoulin V, Greuter W, et al. (eds) 2012) International Code of Nomenclature for algae, fungi, and plants (Melbourne Code) adopted by the Eighteenth International Botanical Congress Melbourne, Australia, July 2011. [Regnum Vegetabile No. 154.] Königstein: Koeltz Scientific Books.

Redhead SA, Demoulin V, Hawksworth DL, Seifert KA, Turland NH 2014) Fungal nomenclature at IMC10: report of the Nomenclature Sessions. IMA Fungus 5: 449–462.

Mueller GM, Dahlberg A, Krikorev M. 2014) Bringing fungi into the conservation conversation: Te Global Fungal Red List Initiative. Fungal Conservation 4: 12–16.

Vilaró MC, Denchev CM, Minter DW, Mueller G, Scheidegger C 2012) Introducing the Fungal Specialist Groups of the IUCN Species Survival Commission. Fungal Conservation 2: 5–10.
Rights and permissions
This article is distributed under the terms of the Creative Commons Attribution 4.0 International License (http://creativecommons.org/licenses/by/4.0/), which permits unrestricted use, distribution, and reproduction in any medium, provided you give appropriate credit to the original author(s) and the source, provide a link to the Creative Commons license, and indicate if changes were made.
About this article
Cite this article
van den Hoeven-Verweij, M. News. IMA Fungus 5, 27–31 (2014). https://doi.org/10.1007/BF03449450